E' dal 1980 che ci adoperiamo per proporre gioielli sempre graditi e di alta qualità e mai siamo venuti meno a questo impegno. Gioielli senza tempo, innovativamente classici. Alcuni di essi per la continua richiesta sono a catalogo da oltre 15 anni! Gioielli con alto valore intrinseco. Raramente l'argento nella sua pur splendida finitura ne è l'unico componente; perle, coralli, ambre, pietre selezionatissime, spesso preziose, a volte inconsuete… mani esperte che le incastonano… Gioielli veri da esibire e che ben sanno come farsi invidiare. Veri gioielli che non puoi non amare.
@ Marcello Parrini
We have been working to offer people high quality much appreciated jewellery since 1980 and we have never forgotten that commitment. Timeless jewels, innovative but classic. Some of them, by popular demand, have been in our catalog for over 15 years! Jewellery with a high intrinsic value. Silver, although at its best finishing, is rarely the only component; pearls, coral, amber, carefully selected stones, often precious, at times unusual… expert hands setting them … Real jewels to exhibit, which well know how to arouse envy. Real jewels you cannot but love.
@ Marcello Parrini
The Best Of Ornamenta 2007
Motivazione: miglior design realizzato con pietre semipreziose.
Premio Argò 1997 per i monili d'argento
Motivazione: monili nobili per fattura, ripropongono l'attualità di uno stile interpretandolo con rispetto della tradizione tecnica e qualitativa dell'epoca.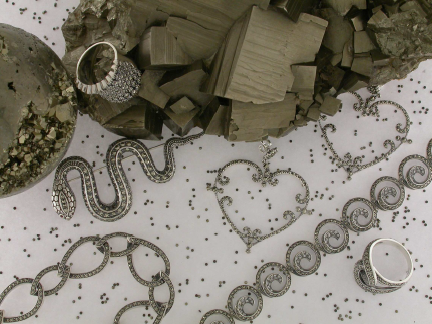 Questo bel nome di origine moresca che dovrebbe identificare uno specifico minerale riferisce per estensione anche a minuscole pietrine impiegate a scopo ornamentale ricavate da
>>> Leggi tutto